Public Relations (PR) Materials You Need To Be Successful
Make public relations a bit simpler by learning all about PR materials that will impress clients and co-workers.

From influencers trying to go viral, to a company hoping to improve their overall brand image, there is a PR tactic for every problem you may face.
Sure, sometimes you have to be a little scrappy and act quickly, but there are almost always best-in-class solutions that others have already practiced. So instead of reinventing the wheel, learn from these different types of PR materials so that you can save time and ultimately improve your PR strategy.
Tactics, materials, collateral, tools, tips, and tricks— Whatever you may call them, they are a crucial part of making your life easier and your clients' lives better.
If you're already a pro at public relations and you're looking for a deeper dive, jump ahead to whichever topic piques your interest:
Press release
People may say that press releases are outdated forms of communication, but that couldn't be further from the truth. Press releases are a tried and true PR material that cut through the clutter and add some organization to the mayhem of media.
A press release is an official statement released by a business, brand, person, organization, etc., that reports any changes, updates or newsworthy events. This public relations tactic boosts brand awareness and trust, which is ultimately the goal of any PR strategy.
There are several types of press releases that all have the same general goals, but focus on specific types of companies and/or occasions.
Elements of a press release
These standard elements are seen across all major press releases. Go ahead and Google your favorite company + press release and you should see the below elements covered. Because as the saying goes, don't fix what's not broken.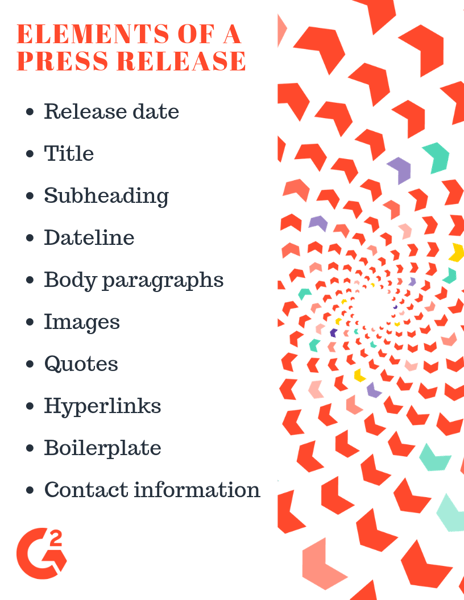 Once you finish writing your press release, the last step is to distribute it to media professionals. You didn't go through all of this work to have only a few people view it, so send it off to valuable connections and watch your exposure increase significantly.
One of the last bullets, boilerplate, needs a little more explanation, so read on to discover why you need to perfect yours.
Boilerplate
As an essential element of a press release, you don't want to write off this standardized paragraph at the end of your press release.
In public relations, a boilerplate provides journalists with information about your company that remains consistent for every press release published by your company. The only time a public relations specialist needs to change a boilerplate is if numbers or data changed. 
Sometimes referred to as an "about us" statement, a boilerplate includes some standard elements that you want to cover when writing your own.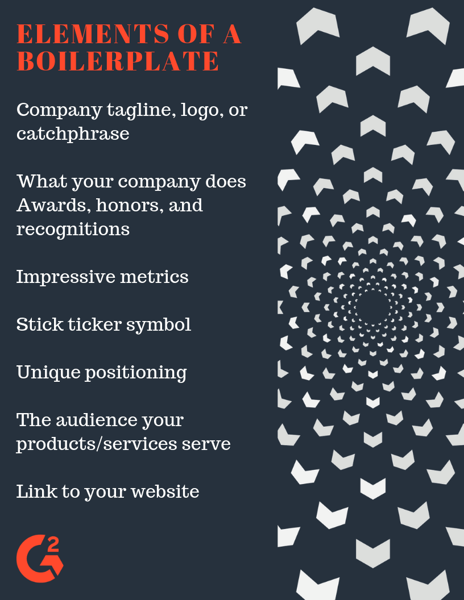 Now that you know what a press release and boilerplate are, you can explore the different types of press releases that PR professionals often write.
Types of press releases
Since there are many different types of businesses and newsworthy events, you have to be able to write for different types of press releases.
Skittles changing the green skittle to a green apple flavor from the lime flavor. IHOP changing their name to IHOB for International House of Burgers. Revlon hiring the first female CEO, Debra Perelman. REI inviting shoppers to #OptOutside and closing their doors on Black Friday.
These PR examples all call for press releases, even though they significantly contrast from one another.
Here are some types of press releases with which you should become familiar: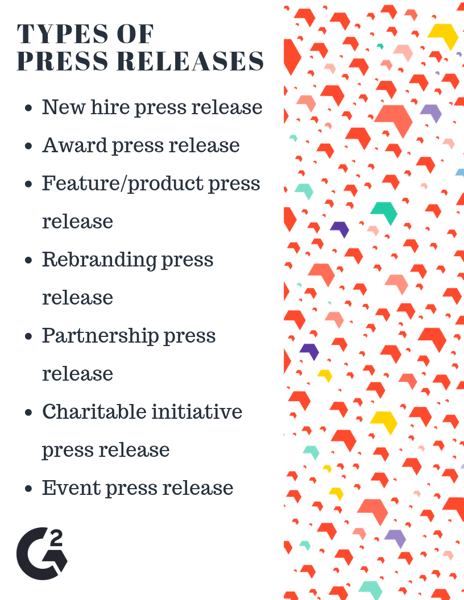 Be sure to analyze the situation at hand and respond with a specific type of press release. Then, apply PR best practices and you'll write a killer press release. Let's take a closer look into one of the most popular types of press releases, an event press release.
Event press release
Your company is hosting a huge event and you've carefully planned the most perfect, Instagram-worthy event. But how do you get people to actually come to this event?
As you probably guessed— an event press release.
 The formatting and must-haves are the same as the press release elements listed above. Once you highlight the who, what, when, where, why, and how of the event, it's time to make your distribution plan.
First, build your target media list which can include news outlets, journalists, bloggers and anyone else who will have influence recruiting people to attend your event. After your list is completed, write a pitch with a compelling subject line, personalize your email, attach your press release and take a breath. If you've followed the appropriate steps and included all of the necessary elements, then people will be sure to attend the event you've put your blood, sweat, and tears into.
Press release tips
There's no need to worry about writing a good press release because it's been done before. 
Here are some tips from PR professionals summed up into one statement:
Don't be generic, show what you're pitching
Capture the whole story in the headline/subhead
Assume most journalists won't read past the headline
Put the news in context to show the importance
Tie it to larger events happening in the world
Communicate that you or your business have an authentic story to share
Be factual, not flowery
These tips will only better your press release. When we all come together and share our knowledge of public relations, we can avoid all PR disasters, or at least try to.
Media kit
A media kit is a public relations tool that is often times confused with a press kit. A press kit covers timely events for immediate coverage, while a media kit gives a general overview of your brand and is mainly used by influencers and brands.
One of the first things to do before you start making your media kit is to gather all of your information.