Kickstart collaboration across your team with Workspaces from PitchBook
Efficient collaboration has always been essential for getting great work done. It's the driving force behind many of PitchBook's latest features[1], including collaborative lists, searches and market maps. In 2020, as COVID-19 shuttered office buildings and much of the global labor force transitioned to working from home, we've all become more aware of the importance of working well together—even when we're alone[2].
Using PitchBook's new Workspaces feature, teams can get and stay organized, as well as facilitate better communication across their firms. Beyond that, teams can utilize Workspaces to share, organize and customize expert-level insights and data surfaced by PitchBook analysts and create centralized hubs for project-relevant files and reports.
Working together seamlessly not only helps your team accomplish today's goals, but also aides in establishing beneficial patterns that will last into the future—when a new, post-coronavirus normal comes into view. Diving deeper into the feature, here are some of the ways you can utilize Workspaces: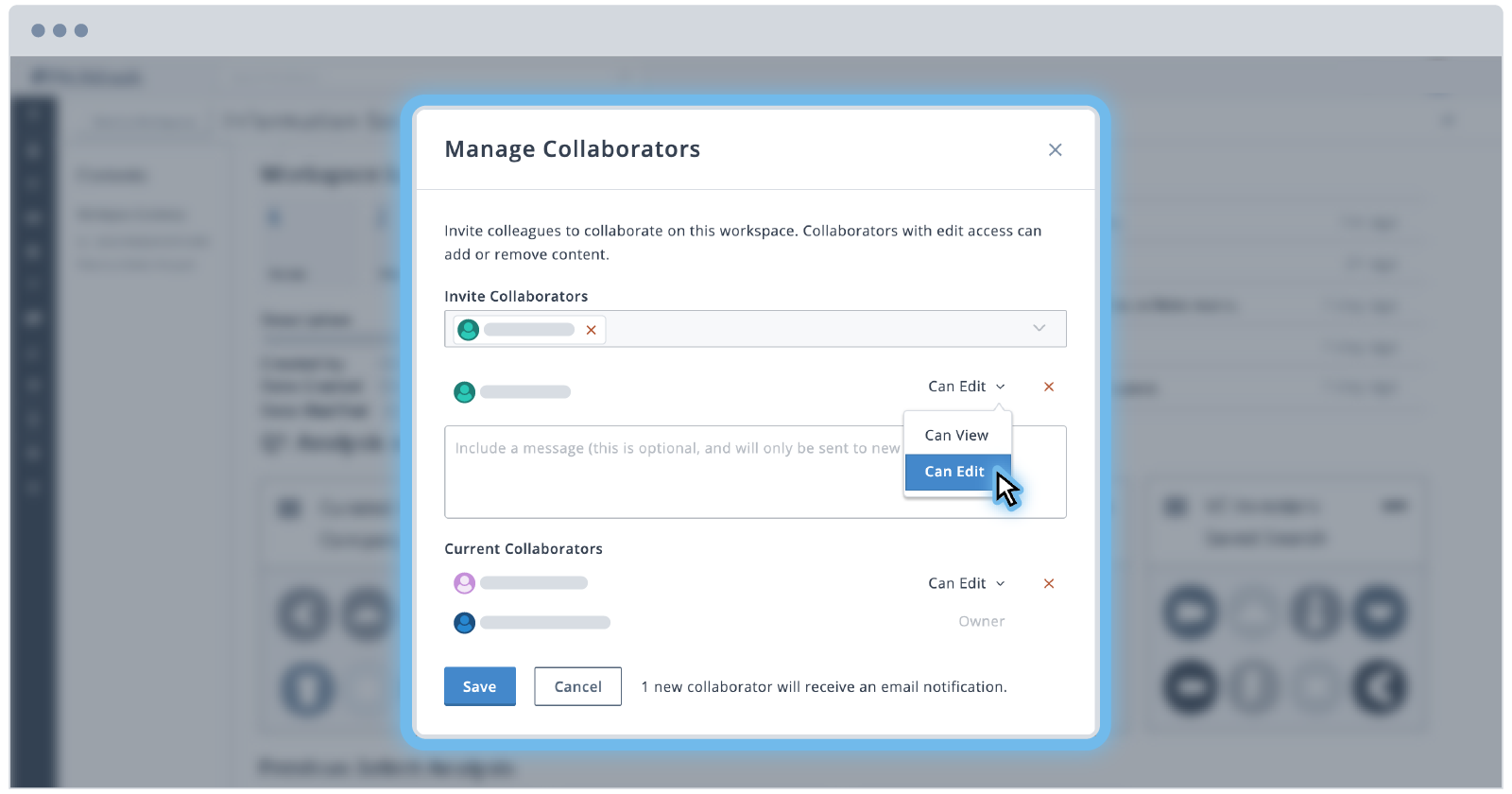 Ditch silos and share IP with next-level intrateam collaboration 
With Workspaces, you can efficiently collaborate on projects to ensure alignment across your team's business objectives—all from within the platform. 
Through inviting collaborators, adjusting collaborator permissions, and adding notes to your shared workspaces, the feature helps break down silos, facilitates IP sharing, and prevents wasting time on duplicate efforts. Plus, using the new My PitchBook icon in the platform, users can easily access workspaces created by their teammates.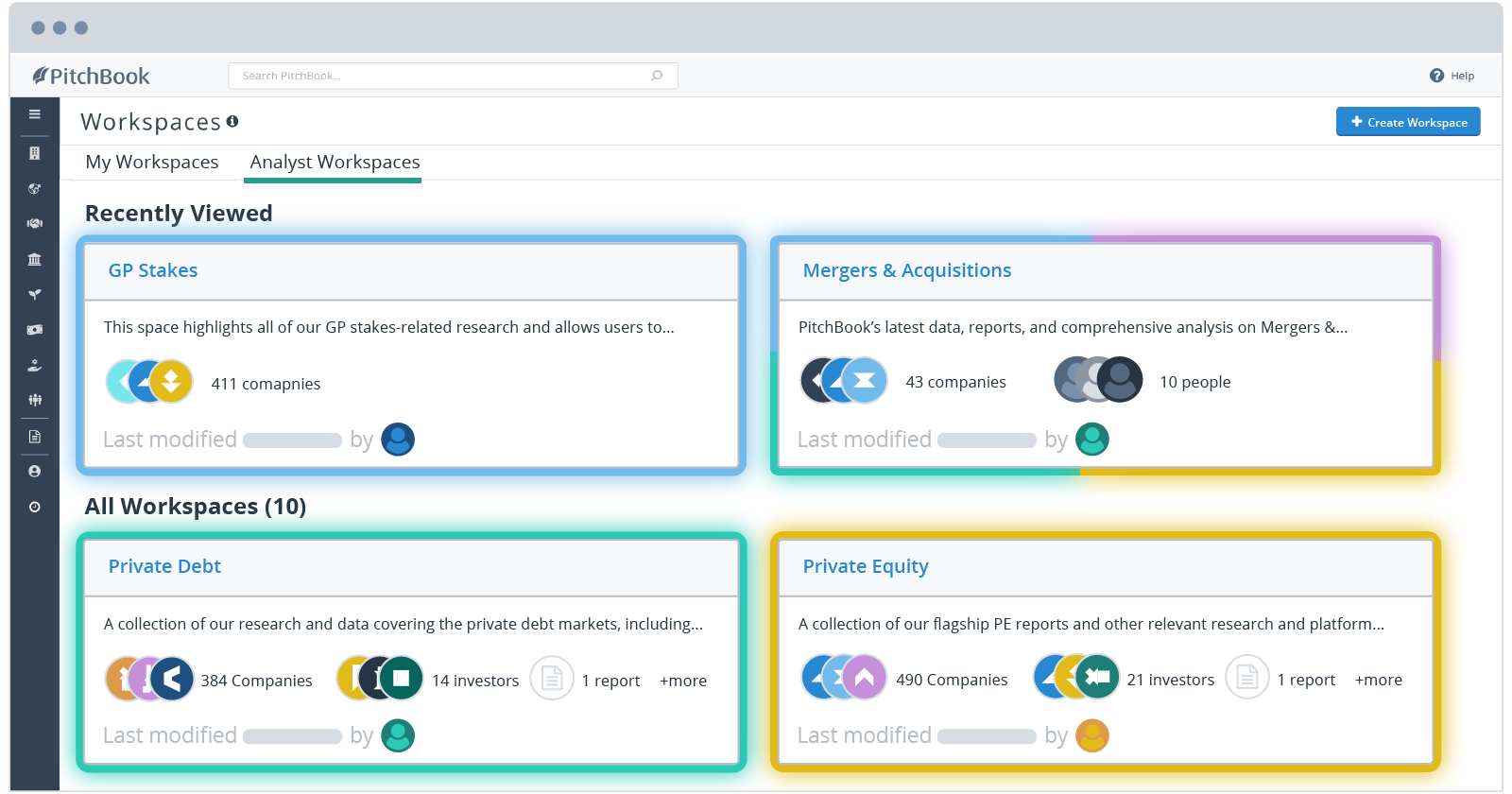 Leverage PitchBook analysts' expertise with curated workspaces
PitchBook analysts[3] are authoritative, trusted experts on private market segments, and they've curated dozens of workspaces that you can leverage to help develop your team's investment strategies. 
These analyst-curated workspaces include more than 240 reports, 100 saved searches, lists and market maps, plus numerous supplemental materials across four broad categories—PE, VC, emerging technologies, and asset allocation & fundraising. Duplicate any workspace, share it with your colleagues and add in your own insights, notes and project materials.
Maintained over time and updated as new research is released, Workspaces creates new opportunities for you and your team to glean insight directly from PitchBook's industry-leading analysts.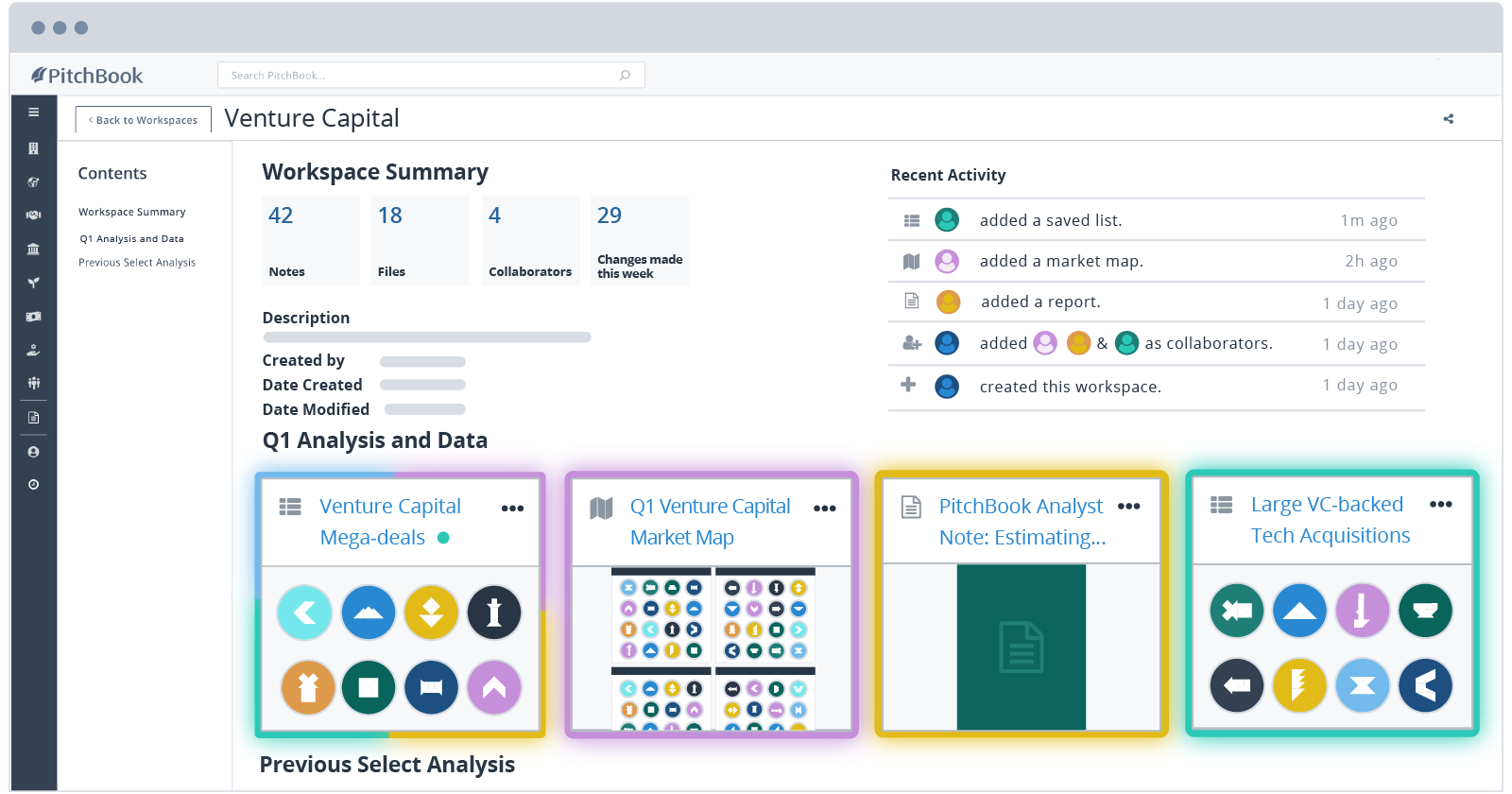 Create a dynamic, centralized hub for all your projects
Within individual, shared, built-from-scratch and duplicated workspaces, you can easily attach related files, reports, saved searches, lists and more. The new Workspaces feature facilitates sharing by enabling our clients to centralize the PitchBook data and resources that are most relevant to their work. 
Quickly pull all your workspaces into a central landing page to keep yourself—and your work—organized. All housed in PitchBook and accessible via the My PitchBook icon, gone are the days when must-have details fall through the cracks as they're shuffled between multiple communication tools. 
Ready to discover PitchBook's Workspaces?
Source URL: Read More
The public content above was dynamically discovered – by graded relevancy to this site's keyword domain name. Such discovery was by systematic attempts to filter for "Creative Commons" re-use licensing and/or by Press Release distributions. "Source URL" states the content's owner and/or publisher. When possible, this site references the content above to generate its value-add, the dynamic sentimental analysis below, which allows us to research global sentiments across a multitude of topics related to this site's specific keyword domain name. Additionally, when possible, this site references the content above to provide on-demand (multilingual) translations and/or to power its "Read Article to Me" feature, which reads the content aloud to visitors. Where applicable, this site also auto-generates a "References" section, which appends the content above by listing all mentioned links. Views expressed in the content above are solely those of the author(s). We do not endorse, offer to sell, promote, recommend, or, otherwise, make any statement about the content above. We reference the content above for your "reading" entertainment purposes only. Review "DMCA & Terms", at the bottom of this site, for terms of your access and use as well as for applicable DMCA take-down request.
Acquire this Domain
You can acquire this site's domain name! We have nurtured its online marketing value by systematically curating this site by the domain's relevant keywords. Explore our content network – you can advertise on each or rent vs. buy the domain. [email protected] | Skype: TLDtraders | +1 (475) BUY-NAME (289 – 6263). Thousands search by this site's exact keyword domain name! Most are sent here because search engines often love the keyword. This domain can be your 24/7 lead generator! If you own it, you could capture a large amount of online traffic for your niche. Stop wasting money on ads. Instead, buy this domain to gain a long-term marketing asset. If you can't afford to buy then you can rent the domain.
About Us
We are Internet Investors, Developers, and Franchisers – operating a content network of several thousand sites while federating 100+ eCommerce and SaaS startups. With our proprietary "inverted incubation" model, we leverage a portfolio of $100M in valued domains to impact online trends, traffic, and transactions. We use robotic process automation, machine learning, and other proprietary approaches to power our content network. Contact us to learn how we can help you with your online marketing and/or site maintenance.